Pepperoncini
Jalapeno
Green Chile
Pineapple
Cream Cheese
Ricotta

Garlic
​Italian Sausage Sandwich
Hand-crafted Italian sausage served with Santeramo's signature sauce and mozzarella on freshly baked bread with mozzarella – 7.95

Submarine
Ham, salami, pepperoni and cheese are stacked with garden fresh lettuce and tomatoes on toasted Italian bread with mayo. – 7.95
​Homemade Pasta or Linguine
Topped with Santeramo's signature sauce - 5.50
With sausage or homemade meatball – 7.75

Santeramo's Meat Lasagna
Layers of pasta, ricotta, mozzarella and meat come together with our signature sauce to create a Santeramo's favorite – 9.50
With sausage or homemade meatball – 11.75

Cheese Tortellini
Stuffed with provolone, parmesan, and romano cheeses, served with a generous portion of Santeramo's signature sauce – 8.50
With sausage or homemade meatball – 10.75

Pasta Alfredo
Our homemade pasta or linguine folded into a rich, creamy alfredo sauce – 8.00
With chicken – 10.25
Appetizers


​Garlic Bread
Freshly baked Italian bread slathered with garlic butter and toasted golden brown served with signature sauce – 3.55

Cheese Bread
Our traditional garlic bread topped with bubbly mozzarella cheese served with signature sauce– 5.85

Pepperoni Cheese Bread
Freshly baked Italian bread topped with mozzarella and spicy pepperoni served with signature sauce – 6.35



Italian Nachos
Crispy chips topped with mozzarella, pepperoni, Italian sausage, and pepperoncini. Served with Santeramo's signature sauce - 11.25
half order – 7.25
​Santeramo's Original Fruit Pizza
Our unique twist on dessert pizza – topped with mozzarella cheese and fruit. Available in Cherry or Caramel Apple
6" (serves up to 3) – 7.55
12" (serves up to 6) – 9.55



Traditional Spumoni Ice Cream
An Italian favorite, topped with Raspberry sauce – 3.75



Cheesecake
Rich and creamy NY style cheesecake on a graham crust – 5.25
Topped with cherries – 5.75

Tiramisu
Two layers of espresso soaked lady finger cookies nestled in whipped mascarpone and dusted with cocoa powder and topped with chocolate sauce – 5.25

Blondie Delight
Chewy butterscotch brownie accented with walnuts and chocolate chips. Topped with ice cream, chocolate and caramel sauce – 5.75
​Small Med Large
12" 14" 16"




13.55 16.95 18.95



12.95 15.95 17.95



14.95 17.95 21.95


11.55 13.95 16.95


11.55 13.95 16.55


13.55 16.95 18.95


​Giant Fresh – Baked Cookie
Choose from Chocolate Chocolate Chunk, White Chocolate Macadamia or Chocolate Chip Cookie. Topped with ice cream and your choice of chocolate, caramel, raspberry or white chocolate sauce – 5.95



Cannolis
Five cannolis filled with ricotta cream and chocolate drops. Drizzled with caramel and chocolate sauce – 7.25
Chocolate shells – 8.25

Chocolate Explosion Cake
A pyramid of rich chocolate cream studded with nuts, chocolate chips and turtle cheesecake chunks. Chocolate curls and golden caramel explode from the center, drizzled with chocolate & caramel – 6.95

Flourless Chocolate Cake gluten-free
A divine chocolate endeavor, this cake also happens to be gluten free. Prepared in the traditional manner and topped with raspberry sauce. – 5.95

Limoncello Mascarpone Cake
This masterpiece combines vibrant lemony goodness with a creamy mascarpone filling. A definite fan favorite! – 5.25
Baked Chicken Parmesan - 10.75
Your choice of Homemade, Linguini, Ravioli or Tortellini noodles topped with a lightly breaded chicken breast, sauce, mozzarella and baked to perfection.

Baked Shrimp Alfredo - 14.75
Our linguini pasta folded into a rich, creamy Alfredo sauce. Topped with tender shrimp, mozzarella cheese and baked to perfection

​Pepsi, Diet Pepsi, Sierra Mist, Dr. Pepper. Diet Dr. Pepper, Mt. Dew, Raspberry Iced Tea, Lemonade, Iced Tea, Coffee, Milk – 2.95
Bottled Root Beer – 1.95
Traditional Italian Sodas – 3.95 each
​Our signature dough stuffed with mozzarella cheese and your choice of any three pizza toppings. 9.95 each additional topping 1.00

​Alfredo Sauce – 2.50
Santeramo's Signature Sauce – 1.00
Hand-Crafted Sausage – 2.25
Homemade Meatball – 2.25
Side Garlic Bread - .75
​Meatball and Cheese
Homemade meatballs served on freshly baked bread, topped with Santeramo's signature sauce and mozzarella cheese – 7.95
​Grilled Chicken Salad

Grilled chicken strips, black olives, low-fat mozzarella and croutons on a bed of spring mix – 9.25

Homemade Soup of the Day
Cup – 4.25 Bowl – 6.95
​Cheese

Additional Topping
​Premium Toppings 1.00 more
Bacon
Shrimp
Anchovies
Artichoke Hearts
Roasted Tomato

Double Crust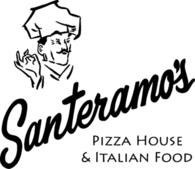 Parmesan Breadsticks
Freshly baked breadsticks served with Santeramo's seasoned dipping oil – 4.99



Meatball Sliders
Four sliders packed with homemade meatballs, mozzarella and Santeramo's signature sauce. Served on fresh baked Italian bread – 7.95

Fresh Tomato and Mozzarella Platter
Vine-ripened tomatoes layered with fresh mozzarella slices. Topped with homemade balsamic glaze – 8.50

EZ-E Italian Slider – one of a kind!
Toasted garlic bread filled with four cheese raviolis, mozzarella, Pepperoni OR Italian sausage. Served with Santeramo's signature dipping sauce – 8.95.
​
Soups & Salads


Signature House Salad
Spring mix, pepperoni, black olives, cheese and croutons. Feeds three to four - 8.50
Individual Signature House Salad – 4.50

Dressing choices: Ranch, Bleu Cheese, Honey Mustard, Italian, Sundried Tomato Vinaigrette, Ceaser, Oil & Vinegar
Italian Sausage
Pepperoni

Beef

Chicken
Meatball
Ham
Canadian Bacon
​8" Low Carb Pizza
3 toppings of your choice on a thin, low-carb, multi grain crust – 5.95

Naked Calzone
Everything you love about a calzone without the bread! Includes cheese and 3 toppings of your choice. Served with a side of Santeramo's signature sauce – 6.50
​
Sandwiches

All sandwiches are served with potato chips. Substitute a side salad for an additional 1.95.
Any pizza or calzone can be made white with our creamy Alfredo sauce for an additional charge
Calzone or Small Pizza 1.25
Med Pizza 1.75

Large Pizza 2.25
Make any Italian Dinner with Alfredo sauce for an additional 2.50
**Please allow sufficient time for proper baking. Pizzas may be made half of one kind and half of another**
​Italian Dinners - all dinners are served with garlic bread
9" Gluten-Free Pizza

2 toppings of your choice – 10.25


​Low Carb Meat Plate
Choice of 2 meats, meatball or sausage. Topped with Santeramo's signature sauce and blanketed in a layer of melted mozzarella cheese – 5.95

Flatbread Pizza
Flat and thin personal pizza. Comes with 3 toppings of your choice – 6.50
Small 12" Med 14" Large 16"

8.75 11.75 13.75

1.75 2.25 2.75
​Cavatellis (Gnocchi)
Traditional Italian potato dumplings – 8.50

With sausage or homemade meatball – 10.75



Cheese Ravioli
Four cheeses are perfectly blended to create this classic Italian favorite. Topped with homemade sauce –7.50
With sausage or homemade meatball – 9.75



Chicken Parmesan
Lightly breaded chicken breast baked to perfection and topped with mozzarella and Santeramo's signature sauce, Served over your choice of homemade pasta or linguine – 9.75
​Green Olive
Black Olive
Mushroom
Onion
Green Pepper
Tomato
Spinach
​Santeramo's Special
Italian sausage, onion, green pepper, mushroom

BEAR'S Special
Pepperoni, green pepper, onion

House Special
Six toppings of your choice

BBQ Chicken
Chicken, BBQ Sauce

Buffalo Chicken Ranch
Chicken, homemade hot wing ranch sauce

Margherita Pizza

Olive oil, garlic, basil, roasted tomatoes and fresh mozzarella
Santeramo's Pizza House & Italian Food